How to Benchmark the Value of a Business
What is a reasonable selling price for a business?
This is a question that arises for many business owners and others interested in pricing a business. To some degree, every business is unique and therefore, no one-size-fits-all valuation formula works for all businesses or for a particular industry. For example, sometimes a dentist may hear 65% of sales is the correct formula for valuing a dental practice. But stop and think for a moment, would a prudent buyer pay 65% of a practice that is operating on thin profit margins? Likewise, would a seller accept 65% of their sales, if the practice is producing above average profits? Hence, it may not be wise to use a hearsay valuation formula.
If you are a business owner and are considering selling in the very near future, your best option is to contact a skilled and trustworthy business broker who works in your area. He or she can walk you through all the necessary paperwork and steps involved in selling a business.
Conversely, if you are interested in knowing the specific value of the business, a qualified and credentialed business appraiser should be engaged. When benchmarking the value of a business, appraisers will often use different measures of earnings, also known as a business valuation multiple. Business appraisers use median and sometimes average selling price ratios from various databases that collect information on "sold" business transactions as a starting point. Business appraisers do not look at one sale transaction in isolation, but rather consider valuation multiples from a group of transactions in an industry or profession. If the business is more profitable than the industry benchmark norm, then the appropriate selected valuation multiple should be higher than the average or median. Equally important, if the business is underperforming a lower valuation multiple would be more appropriate.
Valuation Multiples
Market multiples are derived in various forms. A commonly used valuation multiple is EBITDA (normalized earnings before interest, taxes, depreciation and amortization) which is often used by business brokers and other transaction advisors. The following graph illustrates data collected from the Pratt's Stats database which compiles information on "sold" transactions that have been reported by business brokers to Business Valuation Resources. As gleaned from the graph, not all industries have the same EBITDA valuation multiple. The top color represents the 75th percentile, the bottom color represents the 25th percentile with the middle bar representing the median percentile EBITDA multiples.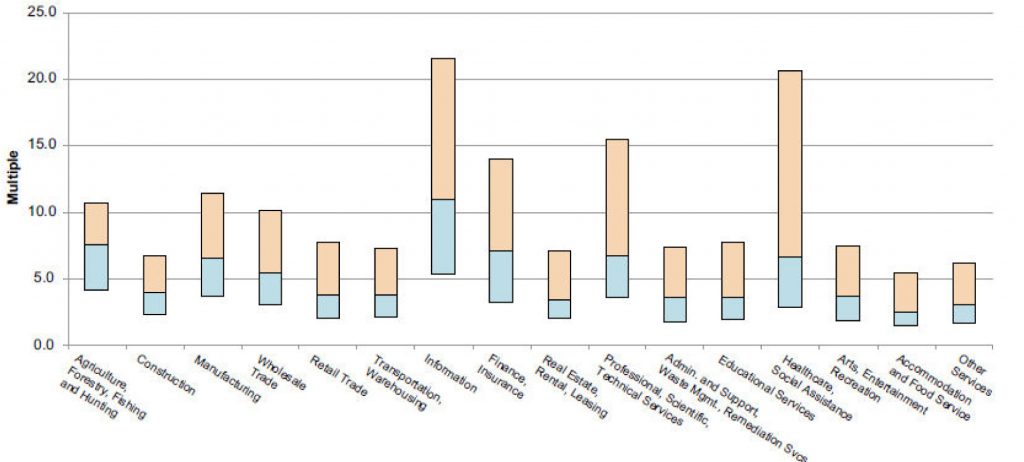 How can American Business Appraisers help?
The business valuation profession is a highly specialized field requiring a solid foundation of experience and professional integrity. Our staff is recognized for their experience and are sought after to develop business valuation courses, as well as, being a national instructor for various business valuation organizations. Contact any staff member for questions relating to business valuation issues or call us to discuss your specific valuation needs. We also invite you to look around our website and see for yourself the services we offer, along with our qualifications.
This publication is designed to provide accurate and authoritative information with regard to the subject matter covered. It is sent to you with the understanding that American Business Appraisers are not engaged in rendering legal or accounting advice. The services of an attorney or accountant should be sought in connection with any legal or tax matters covered.